THE NEW VERTICAL AWNING: THE INNOVATION THAT HITS THE TARGET
The demands of modern architecture, have extended the use of vertical awnings to the protection of façades from sun light or from other weather conditions, such as wind or rain. Guided vertical awnings for external installation require systems that ensure the position of the canvas and maintain it inside the guides. BIP-SCREEN is an innovative solution for blinds that make the assembling faster and easier, whilst also providing them with a greater resistance.
Operation
Recommended fabrics
Install it on
Windows

Balconies

Existing structures
Installation
Mounting
Dimensions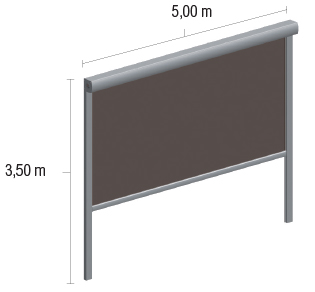 Highlights
The change from zip to Bip:
The zip system is so far the most extended solution for windproof curtains, as it secures the fabric inside the guides.
Now the BIP-SCREEN system comes to provide the same functions but with better resitance results, the same uses but with more advantages for professionals:

High technical skills and extensive experience is not required. It is very easy to mount.
Specific tools are not requiered neither for the assembly nor to manufacture the canvas.
The level of precision and accuracy required for the tailoring of the canvas and for the cutting and assembly of the guides and other structural elements is lower than in zip systems.
It absorbs perfectly some imperfections present in the surface where the vertical awning is installed.
The optimum performance of the sun blind is not compromised despite the lower level of accuracy required in the assembling and in the manufacturing process.
EASY: BIP-SCREEN provides great technical advantages to the manufacturing companies.
It is easy to manuracture and does not require special tooling. These advantages represent triple savings: time, money and space.
STRONG: BIP-SCREEN results into a stronger product end-consumers will benefit from. It is more resistant to wind and agressive weather conditions.