The Bip system for windows
All the advantages of BIP-SCREEN®.
Resizing to protect smaller opennings.
Clip system for easy installation
Finishes
Lacquer in accordance with QUALICOAT standars

Stainless steel screws and bolts
Operation
Recommended fabrics
Installation
Installation
Mounting
Dimmensions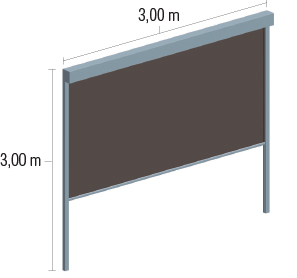 Highlights:
BIP-SCREEN®  is an innovate solution especially designed to adapt to today's architectural trends. Thanks to features that go above and beyond the zip system, BIP-SCREEN® is the best choice when it comes to awnings and vertical curtains.
The system's strength has been verified by wind tunnel testing.
It's very strong and durable.
Choose between two versions: straight line or softline.
The load bar is hidden inside the cassette box.
It is perfect for exteriors as it prevents heat entering the home.
Installation can be frontal, ceiling or between two walls.
It can be manually operated or motorised.
Attention to detail: side trims and rivet-free clipable guides.