ADVANCED TECHNOLOGY AND DESIGN FOR MULTIPLE APPLICATIONS
This cassette strikes the perfect balance between efficiency, robustness, lightness and elegance. It is designed entirely in metal, giving it an impeccable appearance of high aesthetic va-lue and top quality. Thanks to the relationship between the size of the unit and the pos-sible projection, it is a highly versatile model which can provide sun protection for anything from windows up to 5 metre wide terraces, achieving a projection of 5 m. with the reinforced profiles kit.
Finishes
Lacquer in accordance with QUALICOAT standards

Stainless steel screws and bolts
Operation
CE Marketing classification
Install it on
Mounting
Tension transmission system
The arms in the Splendor range are designed to ensure that the fabric is kept properly taut at all times, thanks to the self-adapting transmission system. The operation of the joints is precise and efficient, as they have a duplex ball bearing system which is uni-que on the market.
The concealment of all the transmission components in the joint, its metal design and the slimness of the profiles give the Splendor arm ran-ge a smart, compact, exclusive look.
Dimensions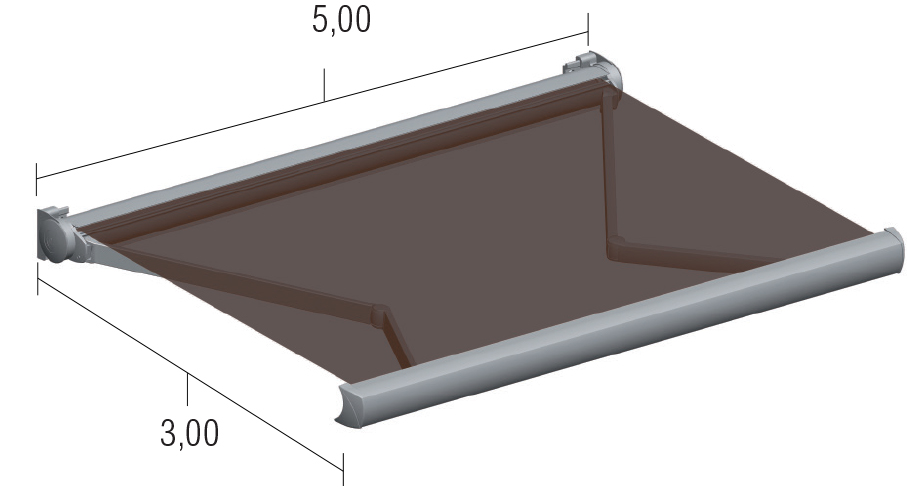 Highlights
Adjustment of the slope using a rack system and its system of fixing on a plate make installation quick and easy.
Its design combines smooth shapes and angles with character to create a look inspired by the variety of forms in nature.
The ideal dimensions of the system give it enormous versatility, allowing it to fit into a host of settings.