Soft lines' elegance and serenity
MOONBOX-400 is a cassette awning that inspires a world of sensations.
Its combination of materials and rounded shapes gives it a Zen look, a bold design and an air of distinction. With just one set of arms it covers an area up to 6.00 m width and 4,00 m projection.
Finishes
Lacado segun normativa QUALICOAT

Tornillería de acero inoxidable
Operation
Automated
Installation
On large terraces
Mounting
Tension system
ONYX – ONYX LUX: Its tension system does not damage the lacquering and provides more tension and resistance compared with cable and chain systems. Full integrated lighting system. No cables in sight.
SPLENBOX-400: The concealment of all the transmission components in the join give the Splendor arm range a cutting edge look.
Dimensions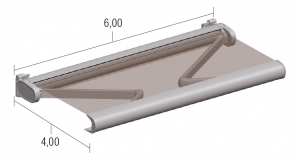 Highlights:
• Its soft shapes are inspired by planetary orbits that gives it a unique and balanced look.
• All side caps are made in lacquered aluminium for a higher resistance and state-of-the-art design.
• The adjustement of the inclination angle can be modified through its rack system.