The elegance and serenity of smooth lines
MOONBOX-400 is a box that inspires sensations. Its combination of materials and oblique and rounded shapes gives it a Zen, different and daring air. With only one set of arms it covers spaces of up to 6,00 m. line x 4,00 m. exit.
Finishes
Lacquered according to QUALICOAT regulations
Stainless steel screws
Fully lacquered arms
Drive
Manual
Motorized
Automated
Usual installations
Terraces
large terraces
Horeca
Subjection
lighting possibilities
Front profile
Arms (Onyx Lux)
Sizes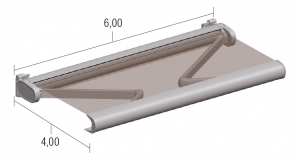 recommended with arms
Classification
Stands out for
MOONBOX-400 stands out for
• Its smooth shapes inspired by planetary orbits that give it a balanced and unique appearance.
• Aluminum trims and side covers for greater resistance and aesthetic possibilities.
• The adjustment of the angle of inclination is by rack system.