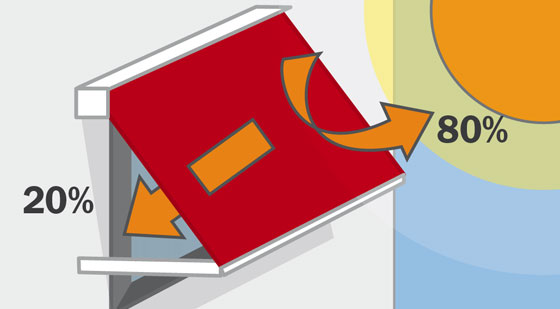 ENERGY SAVING
Ecological and economic objective
Buildings are the largest consumer of energy in the European Union, accounting for 40% of the total energy produced*. An effective way to reduce this consumption is to install appropriate solar protection systems that control the heat and light that reaches the buildings.
Awnings and screens save energy throughout the year, since in summer they reduce the level of heat that enters the building and in winter they prevent heat loss. In this way, the consumption of the air conditioners is reduced, saving on electricity and avoiding higher CO2 emissions into the atmosphere.
*Data obtained by ES-SO, European Sun Protection Organization.
QUALITY OF LIFE
A right
Enjoying outdoor spaces in the garden or terrace contributes to increasing our sense of well-being and quality of life at home. With the protection of the awning, the activities that we can carry out outside the home multiply.
EYE COMFORT
protected eyes
Sun protection systems, by filtering the light, provide us with greater visual comfort, making daily activities such as reading, watching television or working on the computer more satisfying, both under an awning outside and behind a screen indoors. inside.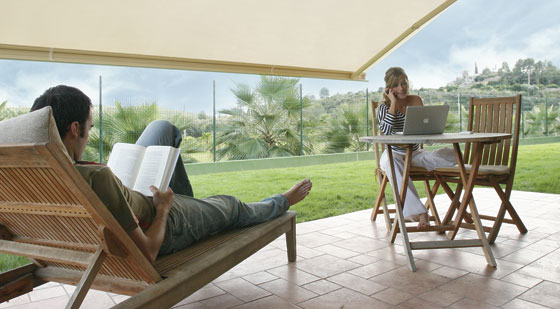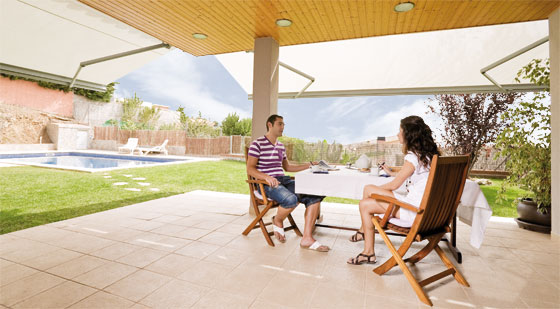 NEW SPACES
With a well-designed installation we gain outdoor space, thus expanding the habitable meters of any construction. Vertical awnings for glass buildings help create welcoming and comfortable areas, with the benefit of being technically well protected and reserved from outside eyes.
DESIGN AND DECORATION
Exteriorism: A design concept
Increasingly, awnings are present in exterior design projects as a functional or decorative part of landscapes. Its new designs are coordinated with shapes and colors to meet market trends and adapt to multiple architectural styles.